Kenneth Herdman
---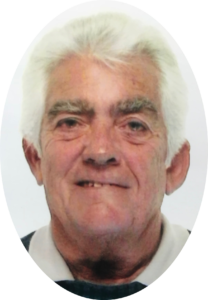 Kenneth Herdman (1934-2018) was born in Hartlepool to Ted and Elizabeth. He was one of four children, the others being Ronnie, Vi and Kathy. Ken did National Service in the army, stationed in Newport, Wales, where he met his first wife. They settled in Machen, in the house he was to live in for the rest of his life. In 1956 Ken got a job as a machine operator at Alcan in Rogerstone, where he worked until his retirement. Ken had two sons from his first marriage, Ken and Chris. He also had three step-daughters, Helen, Lisa and Sarah, from his second wife Gaynor, whom he married in 1987. Ken retired in the early 90s, and he and Gaynor enjoyed their retirement, spending time with their grandchildren and their dogs and summers in their caravan in Saint David's.
Celebrant and tribute contributor: Steve Parry
Tribute to Kenneth Herdman delivered at a Humanist funeral organised by their family. Includes a digital photograph of Kenneth (2018).