Peter Thorley
---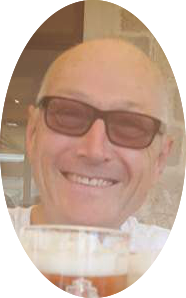 Peter Eric John Thorley (1956-2018) was born in Holbridge, Essex but moved to Suffolk when he was seven years old. He attended Clare secondary school. Peter joined the British Army in 1971, and became a member of The Royal Anglian Regiment and was stationed in West Germany, The Gambia and Northern Ireland. After leaving the army in 1981, Peter joined the South Wales fire service. While in the fire service, Peter met his second wife Julie. They had five children; Jo, Scott, Julian, Olivia and Chelsea. After early retirement from the fire service Peter worked as a carer. He ran marathons in his younger days and enjoyed cycling and walking around the Welsh coastline and the Brecon Beacons.
Celebrant: Steve Parry
Tribute to Peter Thorley delivered at a Humanist funeral organised by their family. Includes a digital photograph of Peter (2018).