Clifford Litton
---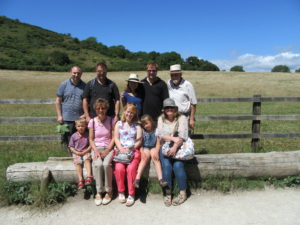 Clifford Litton (1947-2018) was the second child of Nancy and Leonard, and younger brother of Diana. Despite early illnesses, Cliff passed the 11 plus to join Exeter School. He later read mathematical statistics at Birmingham followed by a research degree in Lancaster. He joined the Maths Department at Nottingham in 1972, where he stayed until his retirement 40 years later. It was here that he met his wife, Lindsay. They had three boys, Jonathan, Paul and Chris, to whom Cliff was a hands-on father. He was a school governor and basketball coach. He was also a qualified football referee. Cliff published over 40 articles and books during his career. In retirement he was a keen walker. Cliff had four grandchildren, Lara, Leon, Sophie and Eiji.
Celebrant and tribute contributor: Ingrid Tapp
Tribute to Clifford Litton delivered at a Humanist funeral organised by their family. Includes a digital copy of the funeral's Order of Service and seven digital photographs of Clifford (2018).