John Taylorson (OBE)
---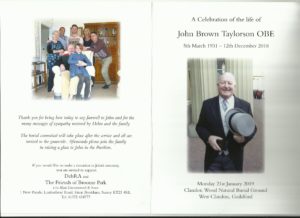 John Taylorson OBE (1931-2018) was born in the East End of London with his twin David, to parents John and Edith. He had two older siblings, Olive and Tom. John left Forest School in Snaresbrook in 1947 to do a course at Westminster Hotel and Catering College in London. John did National Service in the Air Force. He then embarked on a career in the catering industry, notably as head of British Airways catering division. He lived in London, Sheffield and South Africa. John had two children, Jonathan and Sally, by his first wife, Barbara. He had one son, James by his second wife, Helen. John was an accomplished county squash player and a prolific fundraiser for a children's charity, for which he received an OBE in 2007. He had two grandchildren, Max and Lily.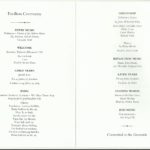 Celebrant and tribute contributor: Rosemary Taylorson
Tribute to John Taylorson delivered at a Humanist funeral organised by their family. Includes a digital copy of the funeral's Order of Service (2018).