Peter Fuller
---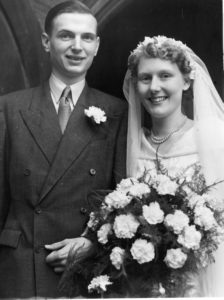 Peter Denis Fuller (1924 – 2019) was born in Brentwood to Herbert and Lavinia. He had an older brother, Harry. The family moved to Luton, where Peter joined a firm of chartered accountants. When he was 18, Peter joined the RAF, serving in Burma and India. After the war, Peter returned to the Luton accountants' office and qualified in 1952. He married Sheila Sinfield in 1950. They were together for sixty years, until Sheila's death. They had two sons, Richard and Alan. When the boys were young they moved to Harpenden. Peter transferred to the firm's London office and become manager of its taxation department and then a partner. In 1982 he was elected senior partner. He retired in 1988 and studied for an Open University degree. He worked for the Citizens Advice Bureau for eleven years, serving as Executive Chairman for six years. He also worked with the National Children's Home in Harpenden. Peter was a grandfather to Adam and Emma.
Celebrant and tribute contributor: Mary Porter
Tribute to Peter Fuller delivered at a Humanist funeral arranged by their family (2019).