Stephen Whitham
---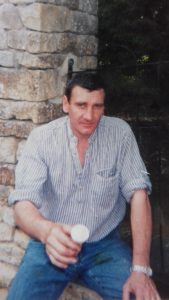 Stephen Witham (1954 – 2017) was born on 23 February, the third of four brothers. He enjoyed motorcycling and loved dogs. Stephen married wife Carol at Witney Register Office and they had two daughters, Shenda and Louise, a son called Steven Junior, and thirteen grandchildren.
Celebrant and tribute contributor: Ian Willox.
Tribute to Stephen Whitham delivered at a Humanist funeral arranged by their family. Includes digital photographs of Stephen, (2017).