Bill Cordell
---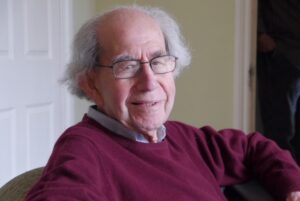 William 'Bill' Cordell (1922 – 2014) was born in Chiswick, London, the youngest of three children. He started work in a shipping office in London before joining the army during World War Two. After the war, he set up an antiques renovation and retail business and remained in the antiques trade for the rest of his life. He was also instrumental in establishing the Camden Mental Health Consortium that ensured patients and their families were actively consulted in the planning and delivery of their care, a novelty at the time. Bill married wife Sylvia in 1948 and they had two daughters: Alison and Julia.
Celebrant and tribute contributor: Patsy Wallace.
Tribute to Bill Cordell delivered at a Humanist funeral arranged by their family. Includes a digital photograph of Bill, (2014).