Sylvia Davies
---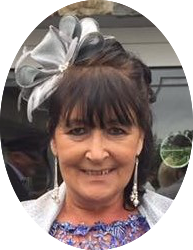 Sylvia Davies (1959 – 2018) was born Sylvia Bergamo in Switzerland on 25 August, the youngest of four children. She moved to the UK as a young child and after leaving school, she worked in a shoe factory in Bridgend. After her marriage, she became a cook and then a cleaner at a school. Sylvia enjoyed travelling with her husband and caring for her children and grandchildren. She married Roddy in 1979 and they had three children: Lee, Ross, and John.
Celebrant and tribute contributor: Steve Parry.
Tribute to Sylvia Davies delivered at a Humanist funeral arranged by their family, (2018).