Dale Winton
---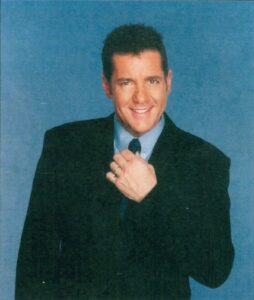 Dale Winton (1955-2018) was born in North London on 22 May, the only child of a Jewish businessman and his wife Sheree, an actress. Named after the American actor Dale Robertson, he worked as a disc jockey on Radio Trent for several years in the late 1970s and early 1980s before he hit the big time with the daytime TV show Supermarket Sweep in 1993. He went on to present the National Lottery show and appear in numerous TV shows including the Royal Variety Performance. For two decades from the mid-1990s, he was a household name, known for his perma-tan, energy and camp good humour. He played a cameo role in the 1996 film Trainspotting, and was always happy to send himself up. He had a number of very close friends in the media and entertainment world, and was godfather to Josh, Ben and Louis Linsey, the three sons of TV producer Mark Linsey and his wife Sarah.
Celebrant and tribute contributor: Rupert Morris
Tribute to Dale Winton delivered at a Humanist funeral arranged by their family. Includes a digital photograph of Dale and digital copy of the order of service, (2018).