Denis Williams
---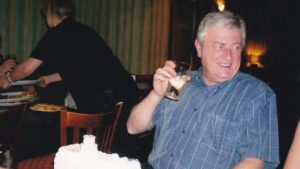 Denis Williams (1942 – 2018) was born in Morriston on 18 November, one of five children. He started an apprenticeship as a carpenter but then switched to working as a labourer before moving to a job at Griff Fender Removals. After leaving them, he worked variously as a crane driver and a forklift driver amongst other things. Denis enjoyed travelling around the UK and watching cowboy films. He had two sons with his first wife and then married second wife Mary and had a daughter: Rhian.
Celebrant and tribute contributor: Steve Parry
Tribute to Denis Williams delivered at a Humanist funeral arranged by their family. Includes three digital photographs of Denis (2018).