Elsie Penfound
---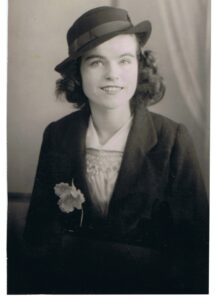 Elsie Penfound (1919 – 2017) was born Elsie Johns in Plymouth on 28 June. She was the middle child of five. She worked as a waitress before her marriage to George in 1943. They had two children: John and Julia. Elsie used her artistic talent to make pottery animals for Tremar Pottery and produced prize-winning homemade wines and pasties. Following her husband's retirement, they travelled the United Kingdom in their caravan until his death.
Celebrant and tribute contributor: Patsy Wallace.
Tribute to Elsie Penfound delivered at a Humanist funeral arranged by their family. Includes three digital photographs of Elsie, (2017).