Reginald Beckington
---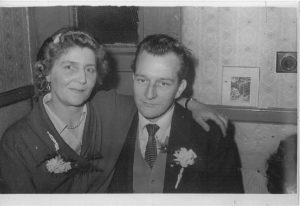 Reginald Gordon Joseph Beckington (1928-2018) was born in Risca, Wales, to Thomas and Winifred and had three siblings John, Lillian and Winnie. His father died when he was very young. He did his National Service in the Navy and then ran the NAAFI in Port Said. Reg returned home and worked in the family shop before working at the Rover Car works where he met Martha. They were married in 1956. Reg adopted Martha's daughters, Sheila, Patricia and Maria and later had their own daughter, Pauline. From 1976, Reg did maintenance work at Llanederyn High School and for Brains Brewers. Reg cared for Martha when she got dementia until she died in 2002.
Celebrant and tribute contributor: Steve Parry
Tribute to Reginald Beckington delivered at a Humanist funeral organised by their family. Includes a digital photograph of Reginald [with his wife Martha] and four digital photographs of Reginald (2018).