Stuart Wilson
---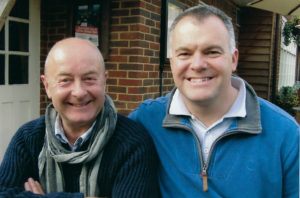 Stuart Wilson (1951-2018) was born in Sunderland along with twin brother Ian. The twins were followed by brothers Brian, Andrew and Peter. The family later moved to Leeds. Stuart studied at Falmouth School of Art and Design and graduated with a Fine Arts Degree in Painting. He then took a Postgraduate course at Leeds Polytechnic. Stuart taught art in Cheshire and Yorkshire where he met his partner of 32 years, Noel. The couple moved to London and subsequently Surrey, where Stuart continued to teach, paint and exhibit. Stuart was a gifted artist whose work was often inspired by his travels. He was a member of the Guildford Society of the Arts and formed the Surrey Open Arts Group.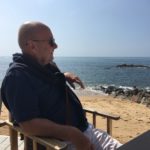 Celebrant and tribute contributor: Hannah Green
Tribute to Stuart Wilson delivered at a Humanist funeral organised by their family. Includes digital copy of the Order of Service from the funeral, digital photograph of Stuart in Porto and a digital photograph of Stuart & Noel (Stuart's partner) in a pub (2018).