Gordon Claridge
---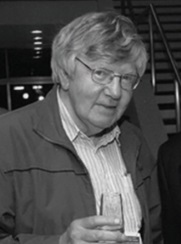 Gordon Claridge was born on 23rd January 1932 to Bertha and Sydney in Walsall, West Midlands. He had an older sister, Beryl. Gordon studied Psychology at London's University College and after gaining his doctorate he worked as a research assistant and clinical psychologist at the Royal Victoria Hospital in Southampton. Following a few years working in Bristol at the hospital and teaching at the university, Gordon moved to Glasgow in 1964 to run the university's Post Graduate Diploma Course in Clinical Psychology. Gordon finally settled in Oxford in 1974 when he joined the Department of Abnormal Psychology, became a Fellow of Magdalen College and later gained a professorship.
Well regarded for his scholarship, empirical rigour and support for original research ideas, Gordon left a legacy of books and papers which extended the psychological understanding of mental health experiences and specifically, on the theory and construct of schizotypy. Gordon's work took him to conferences overseas and he was a media spokesperson on radio and television.  He was a member of the British Psychological Society and the Royal College of Psychiatrists, and became President of the International Society for the Study of Individual Differences. Gordon continued to devote himself to his studies, research and teaching for many years after his official retirement.
Gordon was a keen cyclist, took an interest in cars, entering the London to Brighton rally, and enjoyed visiting museums and exhibitions and watching films.
With his first wife June, Gordon had three sons Iain, Paul and Andrew. David and Emma were born to Gordon and his second wife, Rosemary. He later became a much-loved grandad.  Gordon died on 3rd May 2021.
Celebrant: Ian Hembrow
Tribute to Gordon Claridge delivered at a humanist funeral arranged by their family (2021)